Dutch Charity Globewise becomes key new multi-year sponsor

In December we welcomed an important new sponsor: Globewise, a Dutch NGO with a focus on education. For the coming three years they will support Kamitei. The decision was made after a visit to our schools in Tanzania and a number of meetings with the Kamitei volunteers by Marinel van Zanten en Rosalien van der Laan. This visit was also a good opportunity to go through the latest exam data we collect every year from all schools, allowing us to monitor progress on a subject-by-subject basis for each class level.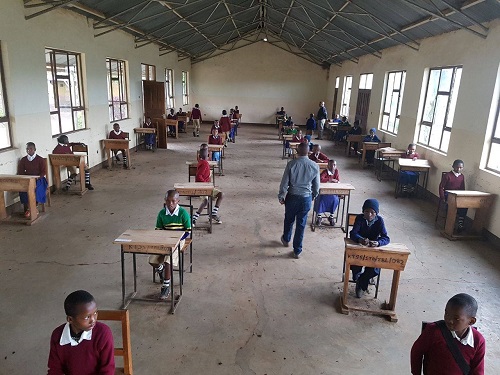 Eight new Eagle Scholarships awarded

Early November a total of 8 students were awarded an Eagle Scholarship and they will start next January at a boarding school in Arusha. This was an important increase compared to previous years, where there were only five scholarships available, and was made possible by the generous contributions from our new Belgian sponsors. Kamitei is formally recognized as a charity in Belgium since 2017. So we made eight families very happy and are confident that they will perform well at Kilimanjaro English Medium School. During the exams, a process that Kamitei manages itself in order to ensure the results are fair. It was also a great opportunity to catch up with community leaders and headteachers, as it coincided with the bi-annual visit of Ageeth.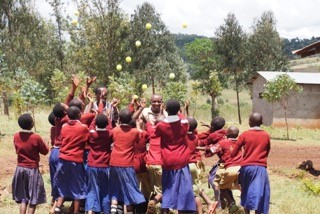 Irkeepusi fun and good results

In November, we had our almost traditional moment of giving tennis balls to the Kamitei students. This included Irkeepusi; one of the schools in a Maasai community. Very happy that we could do this again, thanks to the donation of Pro Te In (Christel ten Have, Tim Luijken and colleagues). We are very proud of Irkeepusi this year, as they improved so much in the past year. Especially Aneth and Rehema who are teaching the students of Standard I. Two teachers for three classes with more than 100 students in total, requiring a lot of patience, energy and good use of teaching aids. The classrooms are nowadays very inspiring!
Top performer Mary gets school scholarship

In 2011 Mary Constantino was offered an Eagle Scholarship by Kamitei. As a student of Kainam she then left Karatu and went to Arusha to attend a boarding school. This year she scored A's in all subjects in the national exam. She was also the best maths student of her class and the first student in the genius competition exams. What's more, she was a good adviser to her fellow students. As a result, Kilimanjaro English Medium School offered her a scholarship to Form 4! And visit our Facebook page if you wish to receive more frequent news updates.
A4C event
On September 28th 2017 our long term supporter Alternatives4Children (A4C) organized the Legends4Legends investment conference with the aim of raising money for A4C at the iconic EYE film museum in Amsterdam. The conference was a great success and raised tens of thousands of Euros for A4C. To inform participants about the projects A4C sponsors, a short video of Jeroen was projected on the big screen, allowing him to explain what Kamitei does.
Sponsor event – Belgium
A day after the event in Amsterdam, Jeroen, Jane and Ageeth travelled to Belgium at the invitation of Hugo Levecke, who had organised an event at the Royal Hockeyclub in Leuven, where over 20 guests attended. Kamitei is now also an officially recognised charity in Belgium for tax purposes, also thanks to the help of PWC, and the evening was a great success.
Ageeth & Bill prepare for March school visits
Ageeth visited Tanzania again in the spring of 2017 to assist Bill in his ongoing efforts to teach trainers and support the development of the schools in the communities we support.
All Eagle Students of Edmund Rice together
Last March Kamitei visited them at school to check how they are doing. In the national exams at the end of 2016 almost all of them were in division I and some of them in division II out of five divisions. Only a couple are not doing great. Together with their teachers we spoke with them and try to solve some of the problems. For example one of them lacked a sweater or a coat so he (Leiyo) was to cold to do his homework in the evening. At the end of April we wil check if his results are rising again. Another student ( Sulle) became reluctant. Now Bill; our field officer is going to check on him more frequently. And will even try to work together with him to improve his results.
Marar Teacher House Finished
Almost done… New teacher house in Marar will help the Marar primary school a lot! Housing and transport of teachers was a major bottleneck and this will alleviate it massively.
Sometimes people wonder why we would invest in a teacher home, what does that have to do with education of children? The simple truth is that the quality of the education of the children depends to a very large extent on the quality of the teaching, and absenteeism of teachers is a real problem in many remote villages. If there is no reasonable housing available near the school, teachers will need to live somewhere else and only the travel itself can already be very challenging. In our view it is therefore essential to have decent teacher houses as part of the overall education improvement program.
Thanks donors for your support!
In a recent article the Economist argued that teaching teachers to be more effective in their job is the most effective way overall to improve educational results. That applies everywhere, both in developing and developed countries. We as Kamitei concluded the same a couple of years ago. We focus most of our efforts in the 8 primary schools that we support on improving the skills and motivation of its 70 teachers. For the full article see the economist website: 'education reform: teaching the teachers'.
Winnie Leonce reaches #1!
Eagle Scholarship student Winnie Leonce ended #1 of the entire school in mid-year, continuing her top ranking from last year. Winnie joined our Eagle Scholarship program in 2011 and has been doing very well throughout. Originally from Kilimatembo, her father is a science and geography teacher at Kilimatembo primary school. Her mother is a farmer. She has two brothers and two sisters, whom are all younger. Her parents are extremely proud of her performance and so are we!
Leiylo and Kimolo (Oltuikai community) Win Internship With Tanzania National Parks
Our "alumni" community scholarship students Leiylo and Kimolo, who both entered the community scholarship  program in July 2015, ended up at the top of their class and they were awarded an internship from Tanzania National Parks – an excellent result and very exciting news for them!
These two students with Maasai roots and a deep understanding of their natural environment, excelled at their course and even offered additional "peer courses" to their fellow students, based on all the real life experience and generation old knowledge they benefitted from.
Both students may now qualify for further education, such as a diploma course.
Heart Warming Message from Scholarship Student
A few days ago Jeroen and Jane received an envelop and a small gift, a box of fresh eggs. Inside was a letter from Sylvester Pater, a talented student from many years ago who had received a scholarship to finish high school in Arusha. The letter speaks for itself, what a nice surprise and how great to hear that Sylverster considers receiving the scholarship as the turning point in his life! Largely thanks to his own efforts, Sylvester managed to complete a university degree and the small leg-up we gave him was just enough to set him on this path. Very rewarding.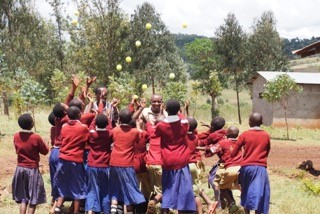 A couple of weeks ago the kids of the primary school Hareabi were surprised by an unexpected gift from Dutch tennis club ProTe In: each student received a tennis ball. Perhaps this doesn't sound very impressive compared to the Sinterklaas bonanza we just survived, but they were super happy and it serves as a good reminder how simple things can also make a real impact. If you have any ideas about goods that could be donated to the schools, please let the Kamitei team know, we happy to discuss!
Another Happy Eagle (and Her Proud Mom)
Saturday the 7th of november…..Kamitei accompanied Johana to her house to tell her family that she became one of the Eagle Scholarship students! Her mother immediately told the headteacher of Kilimatembo how grateful she was for the effort they took to give Johanna the education which made this possible. She promised Johanna a gift when she passed the exams……New Shoes! And she planned to make chicken soup for that evening!
Renata Raphael is one of our star performers in the Eagle Scholarship program. She won a Kamitei Eagle scholarship back in 2009. Today she is in Form 3 of secondary school with 1 year to go to complete her O-levels. She is doing very well. In the latest school results, she ranked 11th out of 55 students. Renata is from a poor family in Kilimatembo, where her mother takes care of her 3 brothers and 1 sister. Renata is very committed to do well at school and help her family
Four New Community Scholarships Awarded
Every year around this time we award a couple of community scholarships for students who completed secondary school and who have the talent and drive to complete vocational training. This year we selected four students; two from Oltukai and two from Irkeepus, both maasai communities. Three of them will go for vocational training to become a tour guide and one, Mbario (see photo) will go for teacher college. They are all very likely to get a job after they finish their studies. For teachers it is virtually guaranteed as there is a shortage in the country. But even for tour guides the odds for a job are really good, especially if you come from one of the maasai communities that are close to the main tourism circuit, because tourism enterprises are keen to hire local maasai people with skills. We are sure they will all do well and we are proud to be able to offer them and their families this chance for a better livelihood!
Summary of Ageeth's Second Visit in 2015
In November for the second time this year I went to visit all the schools of Kamitei. The drive from Arusha to Karatu takes two hours but already after 15 minutes I know that a lot of things are changed and my doubts about improvements are rising. The headteacher of our best school (Kainam) has been transferred to another (non-Kamitei) school. My best teacher of last year has been transferred! Hareabi has a new headteacher and it is a Kamitei teacher who in my opinion is not very inspiring. So what will all of this mean for the education of our students…..
Oltukai:  a hard working teacher team still working on their biggest problem…..how do we get children to school if there parents do not see the importance of education. Bill will go there when there is a meeting for parents to talk and explain why we think it is important. One of our new Eagle Scholarship students is coming from Oltukai. It is the first in many years so let's hope this example will be inspiring. It is definitely a reward for the hard working teachers of Oltukai.
Hareabi: in general this school is getting behind in comparison to the other Kamitei schools. Motivation is still a problem, although a couple of teachers are trying. Especially in the lower groups the teachers are working the best they can. For the first time we saw decoration in the classroom. A tree with all the letters, made together with the students.
Kilimatembo: a very inspiring headteacher who started at this school in the beginning of this year. He is promising and made some very good changes so far. For example he put teachers on the subjects they feel comfortable with. Teachers who are not very good in English are replaced by teachers who teach very well in English. On the other hand is it still a question for Kamitei if he can handle this team which had motivation problems in the past.
Irkeepus: this team is not working very hard. Is still not working according to the timetable and in many classes teachers are not present during the lessons. The headteacher admits that this is a general problem at Irkeepus. He would like to be a normal teacher because of this problem but he is not allowed. We had a meeting with the whole team and spoke about the consequences of not being present in classrooms. They definitely have to change next year but how we have to realize this, is a big challenge for the Kamitei team.
Marar; this school has changed a lot. There are more teachers, teachers are more motivated and teaching! It is great that we can tell them that we are definitely are going to built a new teacher house at this school!
Gilala; this school has a headteacher that doesn't accept no for an answer. The teachers all listen to her! We ignore the teachers who are not very good and focus on the one that like to learn. And they do make steps.
Kainam; a new headteacher just started. It is difficult because the previous one was very good and very popular. The team is very good but is not very happy with the change. The approach of the new headteacher could be a problem for the team. Bill has to go there frequently to coach them.
Juhudi; after a very difficult year in 2014 there is now a new balance between headteacher/teachers/parents and community leaders. Co-operation on all levels is much better and the students finally are in the center of there attention.
On an individual student-level we bought one of them a pair of glasses because she was sitting more or less glued to the blackboard. We found out that she needed minus 7!!!!! One of the students was ill and in bed for almost two months. Jane is trying to get her to Arusha for better medical advice.
On teacher level we saw decoration in two classrooms! Another thing we noticed for the first time was a teacher giving verbal support on how to make the writing movements. Not all the teacher changes were that bad. So in the end, driving back to Arusha, Biil and I were talking about the small steps we made in 2015 but also realizing that the situation at most of the schools is still not very stable. Anyway enough good things to inspire us for next year.